Regular price
$349.00 USD
Regular price
Sale price
$349.00 USD
Unit price
per
Sale
Sold out
AVAILABLE NOW
Our Stick 4.1 includes an array of features giving you a highly functional mountain tool. It has a quick detach picatinny rail mount perfect for using as a shooting stick or using to stabilize your camera in low light conditions to increase exposure time, can be used as an emergency ice axe, walking stick, to clear a campsite, camp saw with the included saw blade, dig a trench around the tent if it's raining or even a hole for taking care of business. All of these uses make it the ultimate MTN tool.
We find one of the key uses of the MTN stick is navigating steep terrain. When the pick is in the ground secured by something like plant roots it can be used to climb past those dodgy spots that would otherwise have few handholds or unstable footing. This is especially useful when carrying a heavy pack.
Difference between 4.1 and 4.0?
There are a couple of key differences:
An upgrade to how the pick attaches. The bolts do not need to be removed reducing the risk of these being lost and making it faster and more practical to switch between attachments.
Small internal upgrades to the leg locking mechanism giving more clamping power and friction increasing the load at which the leg would collapse.
Refinement of the foot allowing the snow basket to be attached and removed when desired.
Product features and what is included in the box:
The head and ground point is machined from 7075 T6 aluminum. Ground point includes a carbide tip.
The head includes a quick attach with a captured pin for the pick allowing for quick pick, saw or snow shovel attachment. 
The head includes a quick attach picatinny rail slot with a detent retaining pin.
Head is now sealed and stops dirt entering the tube and getting into the adjustment joint.
The pick and axe attachments are laser cut from high quality Scandinavian stainless steel that is approximately twice the strength of regular steel.
The locking mechanism is hard anodized 6061 Alloy.
The pole is 100% carbon fibre manufactured in a way the maximises strength and durability. 
Bottom leg is 25mm (1 inch) in diameter
Custom MTNGear wrist strap.
Pole saw attachment, saber saw blade and container.
Snow basket.
Click here for information on stick lengths and size guide. 
By purchasing this product, you agree to the Terms and Conditions.
See an overview of Stick 4.1 below:
View full details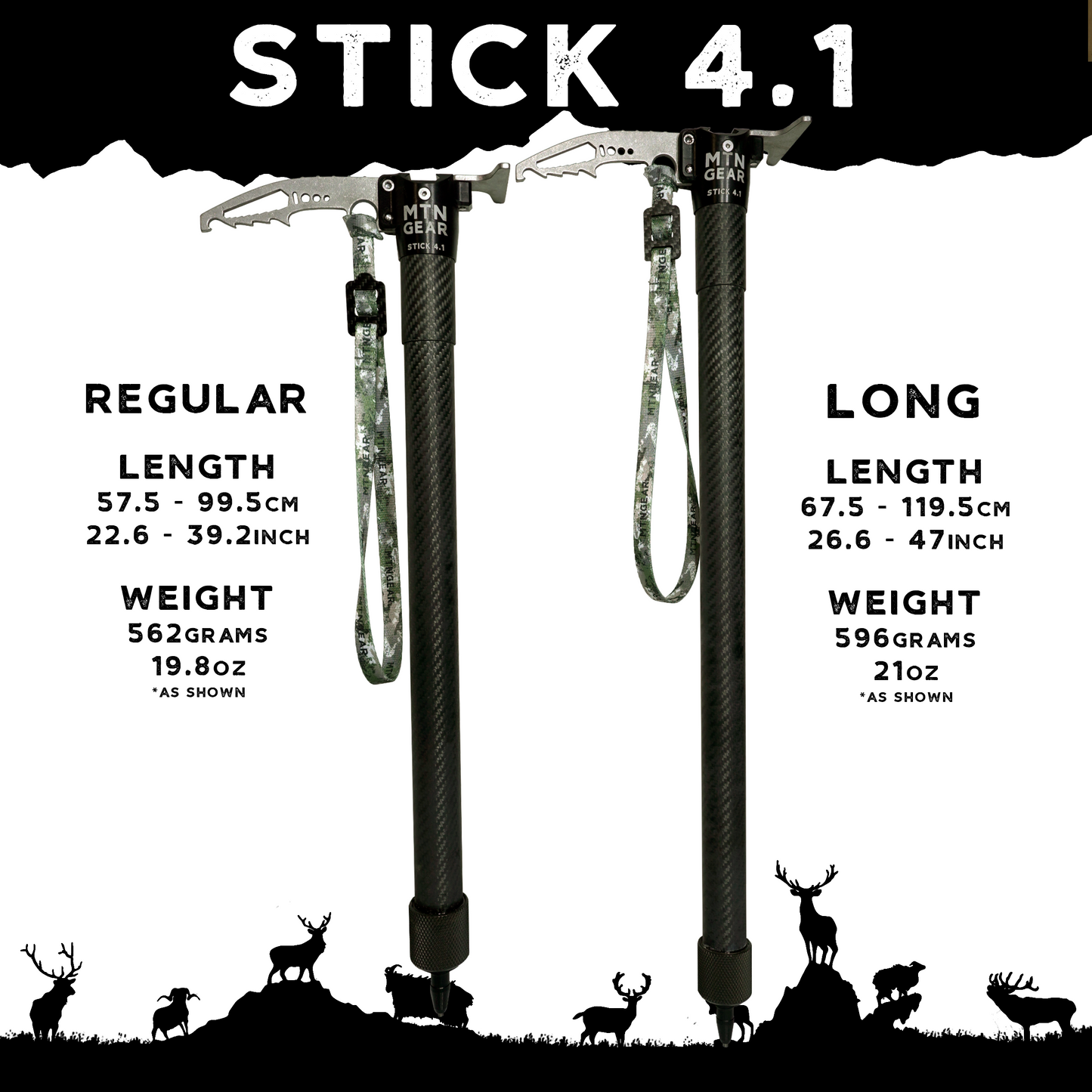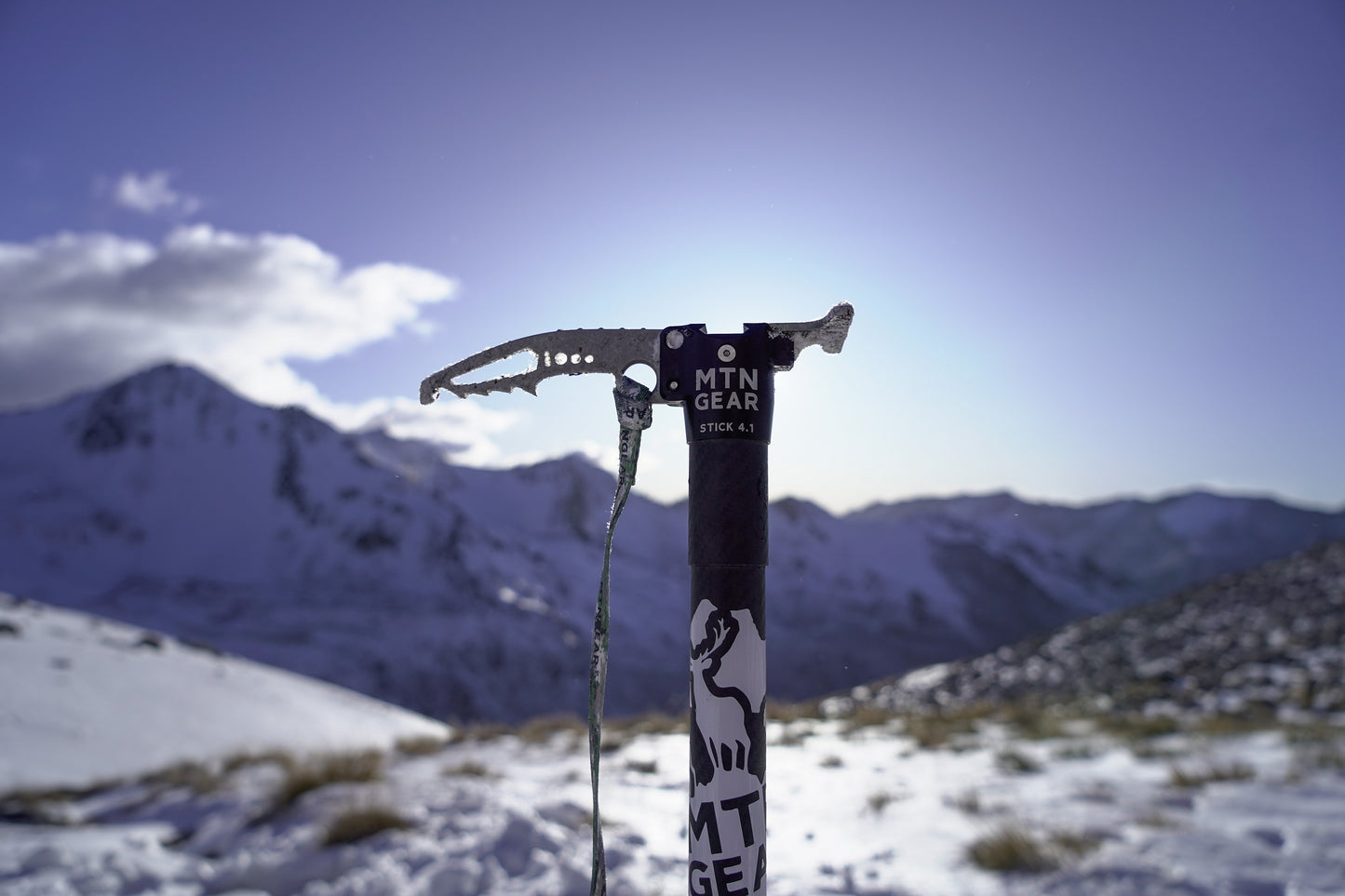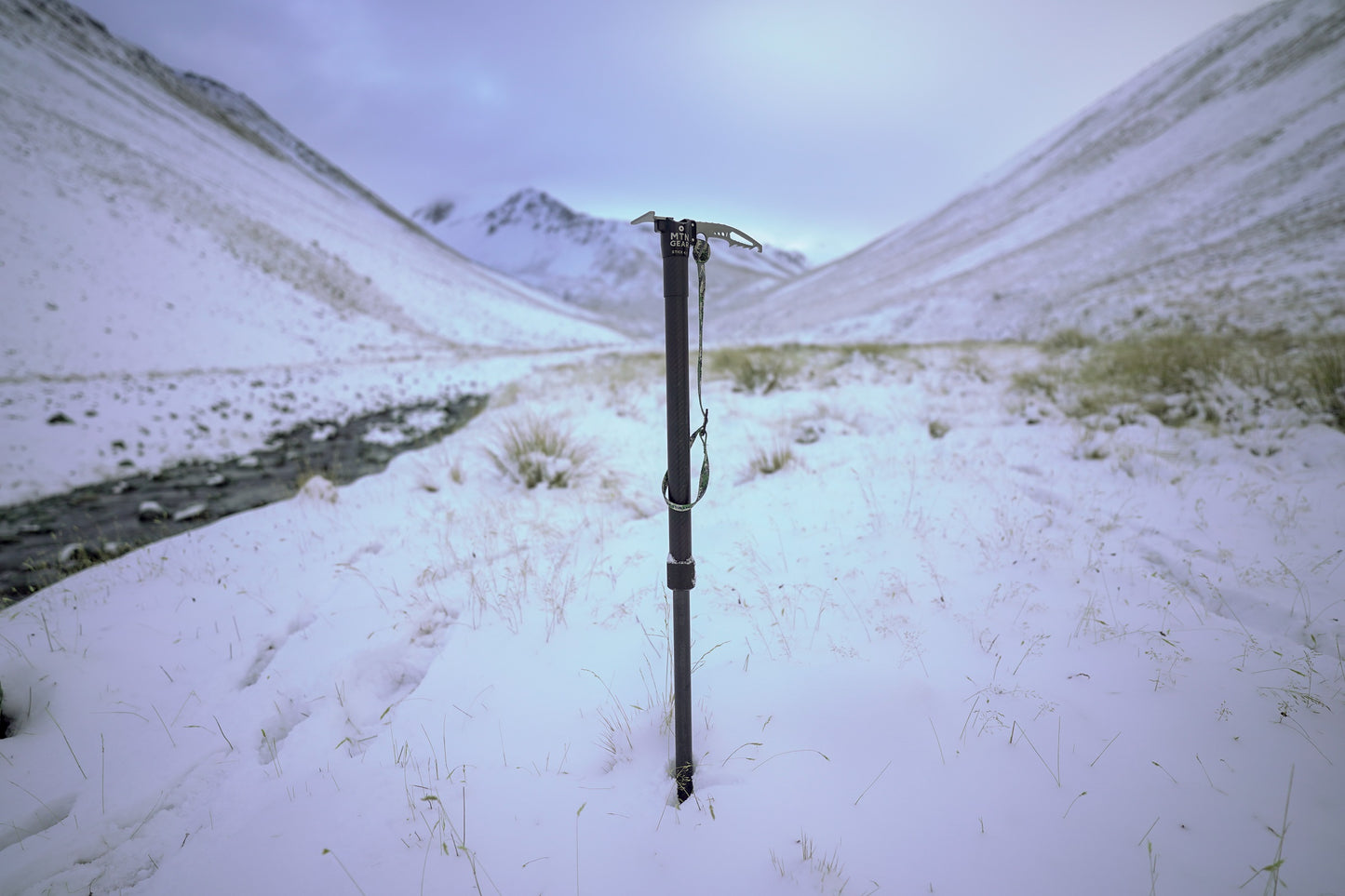 Free Shipping*

*Order over $100NZD and MTNGear will pay for your shipping within NZ.

Outside of this, we have implemented a tiered shipping rates system. See Shipping info for more details.